Nutravet is pleased to launch Nutramed for horses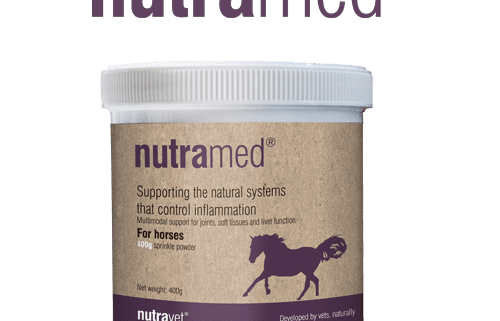 Due to the continued success of Nutramed for dogs & cats we are pleased to announce the release of Nutramed for horses.
Nutramed for horses is a unique product that is specially formulated to naturally support inflammatory conditions and provide multimodal benefits for: Joints, Soft Tissue and Liver Function.
Within the last decade advancements in the understanding of pain physiology and the introduction of much safer natural alternatives to drugs, have considerably improved the management of the body's natural anti-inflammatory processes.
Nutramed has been specifically formulated to provide nutraceutical multimodal support for joints, soft tissues and liver function as part of a customised plan for horses. Increasingly, nutraceuticals are playing a beneficial multimodal role in speeding recovery. Specific ingredients in Nutramed have a historical use and scientific studies confirm their benefit in maintaining musculoskeletal health and improving liver function.
Nutramed is particularly beneficial for horses whose systems may struggle to tolerate non steroidal anti-inflammatory drugs (NSAIDs).
When to use Nutramed:
Horses that struggle to tolerate NSAIDS
Elderly horses with multiple health issues
To support the later stages of Osteoarthritis
For healthy Liver function
A tonic for active horses
To support Pancreatitis
What makes Nutramed so unique:
Includes Boswellia Extract (Boswellic Acids) – A plant extract that supports wide ranging natural anti-inflammatory processes and plays a key role in maintaining smooth and comfortable joint movement.
Includes Milk Thistle Extract (Silymarin) – Recent studies have shown to moderate the pro-inflammatory cascade as well as having a beneficial effect in improving liver function
Includes Pine Bark Extract (Proanthocyanidins) – A powerful antioxidant which also supports the animal's natural systems that control inflammation to help with knocks, sprains or post operative recovery
Highest quality ingredients – We manufacture in the UK to GMP standards with a guaranteed label claim.
Nutramed is available to order with immediate effect and will be sold through Authorised Veterinary Practices.
As with all nutravet products, Nutramed is manufactured with minimal environmental impact, produced from ethically sourced raw materials with sustainability in mind, whilst using packaging that is made from 100% recycled materials.
To request further information on Nutramed please email [email protected] or call us on 0845 604 1688
https://nutravet.com/wp-content/uploads/2022/04/nutramed-horse-packaging.png
500
500
admin1
https://nutravet.com/wp-content/uploads/2022/04/nutravet-logo-sw-strapline.png
admin1
2014-11-05 22:06:31
2022-09-09 14:19:56
Nutravet is pleased to launch Nutramed for horses