Nutravet launches new, next generation renal health capsule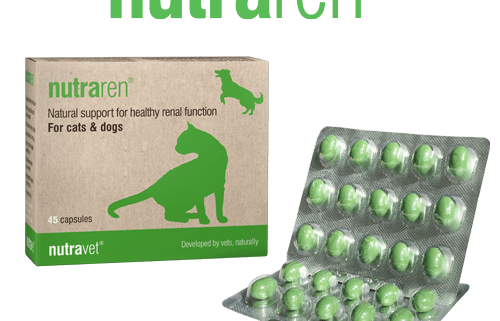 Nutravet® launches new, next generation multi-action renal health capsule for cats and dogs
Nutravet is pleased to announce the introduction of Nutraren® – its new, next generation, renal health product into its range of veterinary strength nutraceuticals.
Maintaining optimum renal health is vital for an animal's general health and well-being, especially as they get older. The kidneys play a key role as they filter waste products, control osmolality and help regulate blood pressure. They also keep both phosphate and calcium at healthy levels.
Launched this month (August 2020), Nutraren provides multi-action support to aid healthy renal function in dogs and cats in an easy to administer gel capsule. Its unique high strength combination of Omega-3s, toxin binders and antioxidants work together to help long-term renal function by flushing out toxins, aiding blood flow to the kidneys and maintaining kidney architecture.
Nutraren has been scientifically formulated using the latest scientific data to create a synergistic combination of proven natural ingredients that include high purity Omega-3s, Calcium, Vitamin E and Chitosan antioxidants which help to keep free radicals in check and maintain long-term kidney health.
Nutraren benefits:
–        Supports healthy renal function
–        Helps support long-term kidney health
–        Aids healthy kidney function
–        Helps bind toxins in the gut
–        Natural antioxidant properties
–        Helps maintain kidney architecture
–        Palatable and easy to administer
–        High purity Omega-3s from fish oils
–        For cats and dogs
Matthew Shaw, Managing Director of Nutravet comments: "We're really excited to launch Nutraren, it's a product our team have been working on for some time to make sure we have developed the best renal product for vets to recommend to their clients.
"Using independent trial data, we've been able to develop a unique formulation for Nutraren containing 100% natural ingredients to benefit a pet's long-term kidney health."
Nutraren is available to order now from Nutravet to authorised stockists.
As with all Nutravet products, Nutraren is manufactured with minimal environmental impact and sustainability in mind and is sold in packaging made from 100% recycled materials.
For further information about Nutraren, to place an order or to become an authorised veterinary practice please contact Nutravet here.
https://nutravet.com/wp-content/uploads/2022/04/nutraren-45-packaging.png
500
500
admin1
https://nutravet.com/wp-content/uploads/2022/04/nutravet-logo-sw-strapline.png
admin1
2020-08-17 08:20:10
2022-09-09 10:43:08
Nutravet launches new, next generation renal health capsule