Nutravet launches new veterinary exclusive range, VetSelect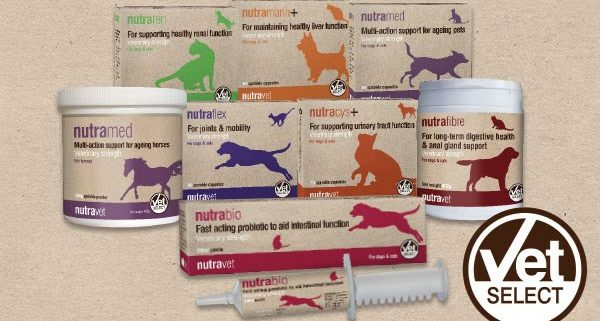 Nutravet is pleased to introduce their new VetSelect range.
VetSelect has been launched to identify those products within the Nutravet range that are available exclusively from Veterinary Practices across the UK and Ireland.
The products within the range use the latest scientific data to target specific health situations and aid the health and wellbeing of dogs, cats, and horses. And in many cases require regular monitoring by a health professional.
Along with the VetSelect range, a new trade website has been launched where veterinary practices can place orders and request FREE marketing materials.
The VetSelect range includes two NEW products, Nutraflex; a fast-acting joint supplement and Nutrafibre; a high fibre supplement for aiding long-term digestive health and anal gland support.
The VetSelect range incorporates well-known and popular products within the Nutravet range including: Nutraflex, Nutrafibre, Nutrabio, Nutramed, Nutracys+, Nutraren, Nutramarin+ and Nutramed for horses.
Chris Jones, Director at Nutravet comments: "Our goal at Nutravet has always been to develop the best veterinary strength, natural healthcare products to aid and support pets' wellbeing. Following feedback from pet owners and our clients, The VetSelect range has been introduced to offer our Authorised Stockists a range of products that are not available to buy online.
"Our focus on the VetSelect range is to provide the highest quality products and services that are tailored to the needs of vets and their customers. We feel that this unique approach is crucial to maintaining the long-term health benefits to pets, whilst supporting veterinary practices in the best way possible."
The VetSelect range can be identified by its logo appears on the products.
For further information about the VetSelect range, to place an order or become an authorised stockist, please contact Nutravet on 0845 604 1688, email info@nutravet.co.uk or visit www.nutravet.com.
https://nutravet.com/wp-content/uploads/2022/09/vetselect-range1.jpg
368
600
Laura
https://nutravet.com/wp-content/uploads/2022/04/nutravet-logo-sw-strapline.png
Laura
2022-09-22 10:40:22
2022-09-22 10:40:22
Nutravet launches new veterinary exclusive range, VetSelect