Nutravet launches Nutramega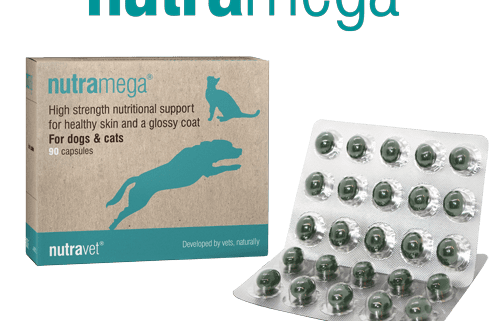 We are proud to announce the launch of our new product range to help manage skin and coat health in dogs and cats.
Nutramega is the first natural supplement on the market to contain high levels of Omega-3's but with no added Omega-6's which have been shown to have potential negative effects on managing skin and coat health.
Nutramega has been formulated to support the animal's natural systems that control inflammation. Administered in a fish gel capsule, Nutramega combines high strength Omega-3's EPA and DHA fatty acids from fish oil with d-Biotin and Vitamin E, creating a synergistic blend that is known to soothe skin and coat conditions. Moreover, EPA and DHA are known precursors for Resolvins and Protectins – lipids which reduce the duration and magnitude of inflammation.
Nutramega provides high strength nutritional support which will help to:
Calm sensitive skin
Improve dry, flaky skin
Reduce itching and scratching
Strengthen brittle nails
Increase comfort
Manufactured in the UK by nutravet, Nutramega is available for order with immediate effect and will be sold through veterinary practices. The administration rate is determined by the weight of the animal and for optimal benefit it should be administered for a minimum of 4 weeks, with continued supplementation advised for animals with chronic conditions.
As with all nutravet products, Nutramega is manufactured with minimal environmental impact and sustainability in mind – Nutramega only contains Omega 3's obtained from sustainably sourced oily fish while the packaging is made from 100% recycled materials.
Nutramega includes:
Total Omega-3s 275mg (EPA 130mg, DHA 85mg) – Works in the skin to help reduce inflammatory signals that are released in response to allergies.
d-Biotin (5mg) – Synthesises fatty acids and improves many skin, coat and nail conditions.
d-Alpha Tocopherol (Natural Vitamin E) 10mg – The most potent natural source of Vitamin E is used as an antioxidant support the immune system
For further information on Nutramega click here, email [email protected], or call 0845 604 1688.
https://nutravet.com/wp-content/uploads/2022/04/nutramega-90-packaging.png
500
500
admin1
https://nutravet.com/wp-content/uploads/2022/04/nutravet-logo-sw-strapline.png
admin1
2013-06-11 11:58:02
2022-09-09 14:39:58
Nutravet launches Nutramega