Introducing Nutracalm for horses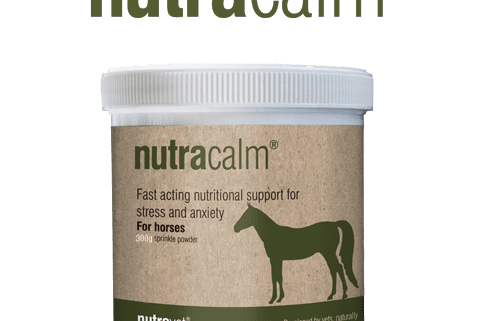 Due to the popularity of Nutracalm for dogs & cats, we are delighted to release Nutracalm for horses.
Nutracalm is specifically formulated to naturally aid relaxation in stressful situations as well as supporting long term behavioural issues. Nutracalm for horses helps to normalise neurotransmitter activity and reduce mood swings, without the side effects associated with some drugs.
Horses are naturally fearful and flighty animals and can be subject to stress from many seasonal, environmental and human factors. Routine stressors can include, transport, contact with people, injury and competition. Horses can exhibit anxiety and stress in a variety of ways including, tail swishing, pawing, snorting, neighing, shaking, rearing and bucking. These symptoms can be caused by a number of individual stress factors. Nutracalm has been developed with these factors in mind.
Nutracalm benefits:
Naturally reduces stress
Calms behaviour
Fast acting
High strength
Easy administration
100% natural
Each 10g scoop contains:
555mg – Passiflora incarnata Extract
1g – L-Tryptophan (99% Pure)
500mg – L-Theanine (98% Pure)
4.5g – Magnesium Oxide
800mg – Thiamin Hydrochloride (Vitamin B1)
800mg – Nicotinamide (Vitamin B3)
150mg – Pyridoxine Hydrochloride (Vitamin B6)
100mg – Inositol (Vitamin B8)
650μgw – Cyanocobalamin (Vitamin B12)
Nutracalm for horses is available to order with immediate effect and is sold through authorised Veterinary Practices.
As with all Nutravet products, Nutracalm for horses is manufactured with minimal environmental impact, produced from ethically sourced raw materials with sustainability in mind.
To request further information on Nutracalm for horses please email [email protected] or call us on 0845 604 1688
https://nutravet.com/wp-content/uploads/2022/04/nutracalm-horse-packaging.png
500
500
admin1
https://nutravet.com/wp-content/uploads/2022/04/nutravet-logo-sw-strapline.png
admin1
2015-09-16 16:36:06
2022-09-09 14:07:23
Introducing Nutracalm for horses