Nutravet launches nutraflora at London Vet Show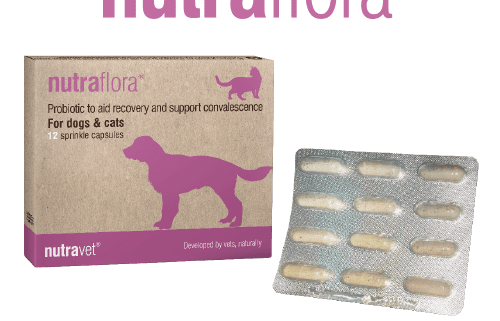 Nutravet launch Nutraflora, a veterinary strength probiotic capsule with B12 to aid recovery in dogs and cats.
nutravet are delighted to announce the launch of a new product which has been developed to help aid recovery and support convalescence in dogs and cats. Launched at the London Vet Show 2018, Nutraflora helps to increase the number of beneficial bacteria and repopulate the balance of good bacteria for optimum gut health and immune support to aid recovery.
Developed in the UK, Nutraflora is a veterinary strength probiotic capsule with scientifically proven natural ingredients that deliver friendly bacteria, which survives the passage through the stomach and rapidly multiplies in the small intestine.
A healthy digestive system is important for optimal immune support. The gut is inhabited by billions of mircrobes (microflora) and these bacteria have a fundamental impact on the physiology and wellbeing of pets. Approximately 70% of the body's immune Lymphatic tissue is located in the digestive tract, mostly in the form of 'Gut Associated Lymphatic Tissue' (GALT). The GALT contains many types of immune cells that optimise the efficiency of the immune response and studies have shown that having healthy microflora stimulates the immune tissue.
Nutraflora has been developed by vets for vets to be given aspart of their recovery programme for animals undertaking surgery and during convalescence.
Nutraflora helps to:
Quickly increase the number of friendly bacteria
Aid long-term healthy gut function
Support a healthy immune response
Supports Vitamin B12 serum levels
Boosts appetite & energy levels
In easy to administer sprinkle capsules, Nutraflora contains a unique formula including a special strain of a natural probiotic bacteria – Enterococcus faecium – together with a prebiotic, natural antioxidants and Vitamin B12 to help maintain healthy gut function, aid the immune system and support convalescence.
Matthew Shaw, Managing Director of nutravet, said: "We're excited to launch this new innovative product, which has been two years in development. We looked at evidence and scientific data during the development of Nutraflora and have had great feedback in our trials.There is increased awareness of probiotics support for hospitalised and convalescent animals where microflora balance and the GALT immune response can be affected while animals recuperate. We know that our authorised stockists will welcome this new addition to our industry leading product range."
Following its launch at London Vet Show, Nutraflora is available to order directly from Nutravet to authorised veterinary practices.
With all Nutravet products, Nutraflora is manufactured with minimal environmental impact and sustainability in mind and is sold in packaging made from 100% recycled materials.
For further information about Nutraflora, to place an order or become an authorised veterinary practice, please contact Nutravet on 0845 604 1688, email: [email protected].
https://nutravet.com/wp-content/uploads/2022/04/nutraflora-12-packaging.png
500
500
admin1
https://nutravet.com/wp-content/uploads/2022/04/nutravet-logo-sw-strapline.png
admin1
2018-11-15 11:09:26
2022-09-09 12:03:50
Nutravet launches nutraflora at London Vet Show